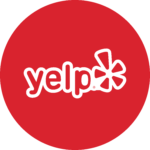 What's new at the Yelp Citation and Review Site and why should you care? According to Wikipedia it is a Internet property that publishes crowd-sourced reviews and information targeting local businesses, provides reservations via Yelp Reservations and also provides an on-line food delivery service known as Eat24. Interesting enough the company is known to train small businesses on how to respond to reviews they may receive, provides hosting and social events for reviewers as well as providing business data….. Especially health inspection scores – YIKES!
Probably the most interesting news at Yelp is the promotion of Eat24.  Eas24 is Yelp's version of "Door Dash", "Postmates", "Uber Eats" and general food delivery services.   The expansion of Uber into this market indicates that Yelp is postured to take Eat24 to the next level as we notice the obvious BOOM of traffic and deliveries at restaurants providing access to the Uber Eats and Eat24 services.  Keep an eye out as this may be a major up and comer and honestly, considering the pay of the Uber Eats drivers I hope that Eat24 maintains and gains market share as the Uber platform doesn't provide for gratuities and even promotes that it is not necessary.    Contracting with Uber Eats can lead to sub minimum wage earnings and we are hoping for competitors to eventually take advantage of the drivers and the "Uberfication" of delivery earnings!
Founded by ex paypal employees, go figure…. it grew quickly and now has over 135 million monthly site visitations and over 95 million reviews.
Yelp does have it's controversy! There have been accusations or suspicion of review manipulation in the form of non-published reviews or altering reviews to compliment their businesses advertiser base. This has been targeted as a conflict of interest by Yelp competitors and has many business questioning the integrity of the site as a whole.
Visit here = www.yelp.com or www.eat24.com
Submitted by Greg Wenzel