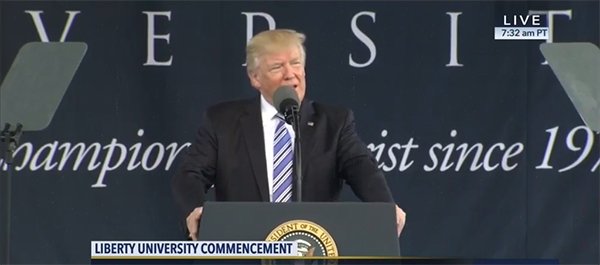 This morning President Trump provided an inspirational commencement speech at Liberty University in Lynchburg Virginia.  Comments included support for Jerry Faldwell Jr. and encouragement for the recently admitted football team to the NCAA.  The speech was presented in a very casual and almost festive manner.  Considering the current turmoil associated with the recent firing of FBI Director James Comey and the ongoing tweet outbursts submitted by the President, he appeared to be in good spirits, relaxed and interacted openly with the audience including NFL star Jim Kelly, his daughter who was one of the graduates and other dignitaries.
Mr. Trump was definitely pandering to the Evangelical element the University is known for.  The speech was inspiring, positive and although he may have exaggerated the name dropping of "Jerry" on several occasions he did provide an adequate and well prepared speech.   It was clear he was there to solidify the relationship with the Evangelical community which would be appropriate and sensible.  There were some interesting comments made regarding the recent implementation of the football team.  The President made the point to list the teams the University would be playing next year which basically indicated his lack of confidence in their ability to compete  as an add on team in the NCAA.  Granted, Auburn, Wake Forest, Ole Miss and the like will most likely provide an overwhelming season for the new team it seemed a little over the top and though presented playfully and humorously it overall left a bit of a negative view on the new teams potential for success..    Read More Here.
Hi did take a few moments to bash critics, not specifically but in general.  Sometimes he just can't help himself!
General News Synopsis provided by Greg Wenzel
greg@gregwenzel.com